(Get free painting tips and techniques sent straight to your inbox or on my social media.)
How To Paint Plein Air
The best approach for plein air painting is the alla prima painting approach. The basic process involves covering the canvas as quickly as possible in order to establish the color relationships quickly. Here is an approach commonly used by master plein air painters.
Note: The painting shown in this demonstration by Barry John Raybould won the top Artist's Choice Award in the invitational Telluride Plein Air Painting Competition. This competition was judged by all the top professional plein air painters who were participating in the event.
Total Time: 3 hours
Step One: Prepare Your Palette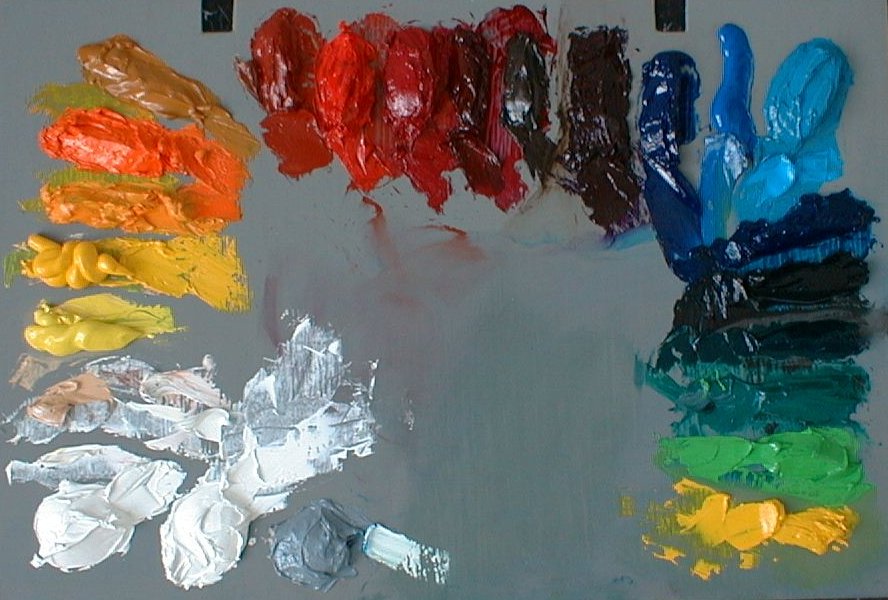 Prepare plenty of paint so that you can concentrate on the scene in front of you rather than continually squeezing paint tubes. I use a full spectrum palette here, but you can use a more limited warm/cool primary palette if you wish. You can get better color harmony with a full spectrum, although it is more difficult to handle.
Step Two: Map Shapes
Determine the major shapes in your composition and mark the most important perspective lines.
Plein Air Painting Step Three: Underpainting
Block in any thin transparent layers you want to show through in the final painting. In this case it is the dark transparent accents. This very dark area will be painted over in the later stages, but not entirely. That is to let a few really think darks remain as accents to give depth to the painting. You also can start with an imprimatura.
Plein Air Painting Step Four: Establish Values
Work out your lightest light and darkest dark. Then determine the middle values.
Plein Air Painting Step Five: Block In Darks
Block in all the dark shapes. These will usually be the areas in shade. Connect your dark shapes if you can into larger shapes to strengthen the design. Keep your shadows in the middle value range for more luminous shadows.
Plein Air Painting Step Six: Block In Lights
Block in the light shapes using thicker paint. Again, connect the light shapes where you can. Make sure you take into account the principle of unequal space division.
Plein Air Painting Equipment and Supplies to Take on Your Plein Air Painting Trips
Over the years of plein air painting, I have managed to pare my equipment and supplies down to the lightest but most useful items so that I still have enough to create colorful plein air paintings. I have created two separate lists that will hopefully help you on your local plein air and longer distance plein air painting trips.
Plein Air Equipment and Supplies for Car Travel
The first list of plein air equipment and supplies is for those of you who want to get out of your studio and explore your local area for possible plein air painting locations. All of these plein air painting items will fit easily into the trunk of your car, or on the back seat. It gives you the most flexibility to paint many plein air paintings, with a fairly large palette of paints, but with a reasonable light setup so you can carry it out into the landscape away from the car.
Plein Air Equipment and Supplies for Air, Train, or Bus Travel
If you are going further afield on a plein air painting holiday, plein air or studio workshop, or even visiting friends and family away from home, you will need a very lightweight set of equipment and supplies. The items in this list are a superlight set of plein air equipment and supplies that you can take with you when you do not have much weight allowance, that I have developed over the years. It is especially useful when you are going abroad and travelling by plane.
Data Sheet to Use When Taking Oil Paints on a Plane
You can print out the following page and put one of the printouts in each package of oil paints in your checked baggage. This will prevent security from removing the paints.
If you can get hold of the MSDS data sheet from the manufacturer of your oil paints, can should also put it in your suitcase with your the paints in case it is opened by security.
16 Tips For Plein Air Painting
Travel light. The most important thing is to travel light so that you can more easily get to places and be comfortable. Remove everything you don't really need from your pack and keep only the essentials.
Simplify your palette. Use a smaller number of colors. A limited palette or warm/cool primary palette is a good choice. See my palette color advisor tool.
Don't carry paint tubes. The only paint tube I bring with me on painting trips is white. I pre-prepare my palette with generous amounts of paint before I leave my studio, loading up my palette with enough paint for the day. This has two benefits. It saves a tremendous amount of weight from carrying heavy pigments that you will never use. And secondly, it lets you concentrate more on your painting, rather than having to keep stopping to squeeze out tubes of paint.
Use a wet panel carrier or drying box to carry your wet panels. You can buy or make simple systems for carrying wet panels so your paintings do not get damaged. There are two basic types: the frame type with a rabbet. And the slotted box designs. Some Pochade Boxes can also have places to store paintings.
Wear neutral colors. Sunlight reflecting off your clothes onto your canvas can affect your perception of color. For this reason it is best to wear neutral colored clothing.
Wear neutral colored sunglasses while painting. Many people say do not wear sunglasses at all while painting. This is because it can affect your color perception. However, prolonged exposure to excessive sunlight UV radiation can damage your eyes over the long term. So you may want to take that into account. However the sunglasses will affect both your view of the scene, and your perception of the colors on your palette to the same degree. So they effects will cancel out. However tinted sunglasses might take out one hue from the spectrum so you can't see that hue. It is better therefore, if you are wearing sunglasses to use neutral colored lenses.
Wear a hat. This protects your eyes, and stops glare that prevents you seeing colors accurately.
Don't hold your palette in your hands. It is best to use a palette support such as an easel butler or leder easel to support your palette. This keep your hands free to change brushes or use a rag.
Use fresh colors. Working with partly dried pigment makes painting more difficult in a situation in which speed is important because of the changing light . Color that isn't fresh also does not adhere very well to the canvas.
Use an imprimatura on your canvas. To keep your paintings fresh, put a brushstroke down and leave it. If you don't have an imprimatura on your canvas you will have small spots of distracting white canvas showing between your brushstrokes. An imprimatura also helps you judge values outdoors more easily.
Keep your medium clean. Working with dirty medium can contaminate your colors.
Prepare for wind by using a sturdy plein air easel or pochade box. If you do not have a sturdy plein air easel or pochade box/tripod combination, the whole setup can blow over in the wind.
Use lightweight painting supports. I use gatorboard panels from New Traditions Art Panels for paintings measuring from 8×10 inches to 24×30 inches. I use Claessens oil-primed linen, style 12 or 13, for smaller works and style 15 for larger works. Gatorboard does not warp like wood panels in humid environments.
Use an umbrella. Use a good umbrella to shade your artwork and your palette, and preferably you too. I recommend Artwork Essentials for a good plein air umbrella to attach to your plein air easel or tripod. However if you are working near a car, it is best to use a much larger umbrella that mounts on a device you fix to the ground. I use an earthworm umbrella stand. This has a spiral screw that you screw into the earth. If you don't have an umbrella your perception of temperature is thrown off and the color often does not look good when you bring your painting home. Also you tend to paint far too dark if you are working in direct sun.
Plan the changes in light. The direction from which the light is coming from affects the shape of cast shadows in your composition, and which planes are in the shade and which are in the light. So as the sun moves the shapes you designed as part of your composition could completely change and ruin your initial design concept. Also even if you are comfortably in the shade now, you could end up being roasted in the open sun in an hour or so and find yourself too uncomfortable to paint. So before you start to paint, see which direction the sun is moving, and estimate how long you have before your composition changes drastically. You can then decide to either move or paint the part that will change first. Once you have committed to a certain light condition, if the light changes, either stick to your original idea, or stop for today and come back tomorrow to the same place and at the same time.
Use notan sketches. Do a few notan sketches to ensure your composition is going to work in advance before you waste a few hours on a composition that can never work. You will often find that a scene looks good when you first see it, but when you start to paint it, you run into problems. Notan sketches are great for selecting the best scene, or part of a scene that will give you the best composition.
Plein Air Painting Techniques
For more information on how to paint plein air, see plein air painting techniques.
For more information on the the nine-step alla prima plein air painting process, see guide to alla prima painting
Thank You
Thank you for taking the time to read this article. Please feel free to share it with friends. If you are interested in a structured approach for learning how to paint, take a look at my online painting classes.
Happy painting!
Barry John Raybould
Virtual Art Academy
What The Students Are Saying