(Get free painting tips and plein air painting techniques sent straight to your inbox or on my social media.)
What is the Alla Prima Process?
The basic alla prima painting approach is commonly used by plein air painters. In this approach, called alla prima (Italian, meaning at first attempt) you paint wet-in-wet without letting underlayers of the paint dry. As an exception, you might do an underpainting, called an imprimatura, using thinned paint with some quick drying medium such as Liquin. I do this sometimes for my darks.
In the alla prima painting process you cover the canvas in a short time in order to determine the main color spots and relationships in the painting.
I did this painting for the Telluride Plein Air Painting Competition many years ago, and it won the top Artist's Choice Award.
Total Time: 3 hours
Step One: Set out your paints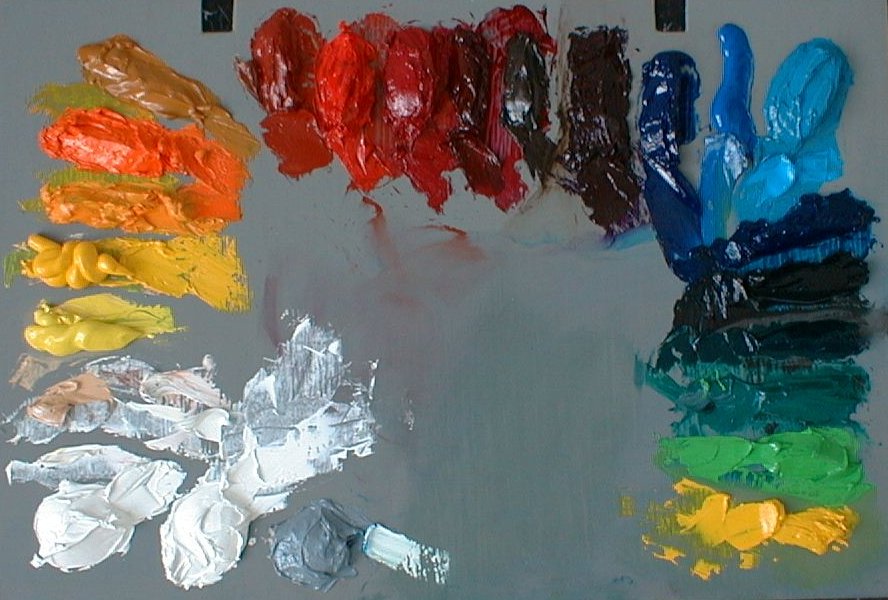 The first stage of the alla prima painting process is to put out a lot of paint so I don't have to break my rhythm while painting to find and squeeze paint tubes. I use a full spectrum palette in order to be able to mix different hues very quickly. It also gives me a wide gamut of colors to let me get beautiful color harmonies.
Step Two: Establish Major Shapes
In the stage of the alla prima painting process, I establish where to put the big shapes in my composition. I don't draw, as that is not necessary and just wastes time. I will draw with the brush more accurately in the later stages. This way I am pretty confident of my composition before I apply paint to canvas.
Plein Air Painting Step Three: Dark Layer
In this next stage of the alla prima process, I block in the darks using thin transparent paint. This lets me paint over it with opaque paint later on, but creates a more transparent paint quality, as well as giving more realism to the painting by leaving some dark accents.
Plein Air Painting Step Four: Determine Your Values
In this stage of the alla prima painting process, I put down the lightest light and the darkest dark. This gives me the boundaries for all the other values in the painting.
Plein Air Painting Step Five: Block In Darks
Here, in step 5 of the alla prima painting process, I block in all the dark shapes. These include the shadow areas where the light is blocked, but also any really dark colored objects.
Plein Air Painting Step Six: Block In Lights
In the final stage of the alla prima painting process, I paint the light shapes using impasto paint. After doing this stage, I will go back into the painting and start to refine both the dark and light shapes and develop my focal areas.
The Completed Award-Winning Plein Air Painting
"Telluride Alley", 11″x 14″, Oil on Board
First Place Artist Choice in the Telluride Plein Air Festival (2005).
Video of the Alla Prima Painting Process
This video shows the alla prima painting process in action. You can learn much more about the all prima process in Workshop D of the Apprentice Program which includes both oil painting lessons and watercolor painting lessons.
The Completed Award-Winning Plein Air Painting
"And Then The Sun Came Out, Carmel Beach" 16″x 20″, Oil on Canvas
Top Oil and Acrylic Painting Award in the Carmel Art Festival Competition (2016).
Voted in the FAV15% (jury's favorite 15% of the entries) in the May 2019 BoldBrush Painting competition.
There is really no secret to winning awards. It is just a question of consistently applying certain well known painting principles and techniques. It was completely finished in one session using the alla prima approach.
Plein Air Painting Easel
The particular plein air painting easel I am using in this video is based on an old Gloucester Easel design. It is marketed as a Take-it easel. It is very stable in high winds and lets you paint from very small to very large.
For more information, see:
Plein Air Painting Challenges
As you can see in the video, alla prima painting can be a real challenge depending on the weather, light, and sometimes…. the sea conditions!
I always spend a lot of time finding the right composition in nature so that I do not have to alter things too much. This involves a lot of searching. Sometimes it involves a not ideal painting position, just to get the right angle on the composition. Even standing in the water!!
Books on Alla Prima Painting
A well known book on alla prima painting is Alla Prima: Everything I Know about Painting, by Richard Schmid. It covers the topic of edges particularly well. Schmid however, does not use the full spectrum palette that I use here. In fact, Schmid's technique is closer to that used by John Singer Sargent and Anders Zorn, using a rather subdued palette, rather than the wider array of colors used by the Russian Impressionists. I find the full spectrum palette helps to create more interesting color harmonies.
Other oil painting techniques I used
Some of the key oil painting techniques I used in this painting that helped to make the work successful were:
If anyone is interested in more detail about the alla prima process I use, I documented it in full in one of the Virtual Art Academy eBook series: The The Complete Guide to the Alla Prima Painting Process for Oils, Acrylics and Watercolor.
Thank You
Thank you for taking the time to read this article. I hope you find it useful. If you would like to get free painting tips by email, please sign up for my free tips newsletter.
If you are interested in a structured approach for learning how to paint, take a look at my online painting classes.
Happy painting!
Barry John Raybould
Virtual Art Academy
What The Students Are Saying