The Sun Eden Easel is a very lightweight and compact easel with a shelf on which you can rest a palette.
Company name: SunEden
Website: sun-eden.com/
Pochade box name: Lite & Stable Oil Painters Package
Type: Aluminum Easel
Price range: $150-$200
Weight: 7.0lb 3.18kg
Palette size: 9″x12″, 23cm x 30cm
Construction: Aluminum/Polycarbonate
Description
Lite&Stable Oil Painter's Package (Shelf-200 (01-20), Lite&Stable Easel (04-03).
Black telescoping, rectangular profile aluminum legs for extra stability, with quick-release leg locks, lock at any height. Spring-loaded locking top clamp for canvases to 1-1/4" thick. Has non-skid pivoting rubber feet for uneven surfaces. Two Canvas holders for greater flexibility. Adjusts from the smallest canvas (6") up to 48". Includes carrying case. 6-hole brush holder. 17-1/2" canvas/pad shelf.
Painting sizes: 6" to 48".
Artist's Shelf (01-20) height from ground: 29".
Open: 69" high (ideal for taller artists).
Weighs 2.5 lbs.
Vertical Painting Height: 69″
Tilts to Horizontal: No
Shelf Height from Ground: 29″
Minimum Vertical Painting Height: 6″
Folded Height: 25"
Artist Type: All Media
Maximum Panel Size: 48″
Artists shelf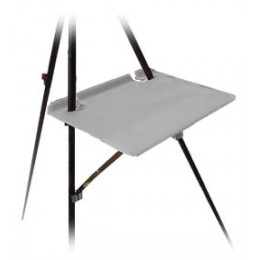 The SunEden Artist Shelf supports your palette, water and paper towels. The shelf re­mains level even when the easel tripod is tilted back.
Its cantilever achitecture reduces the shelf's overall weight. Quickly attaches at the point where your tripod legs are 12″ to 13″ apart. High enough so you can stand and not have to bend over … yet still adjustable via the tripod/easel telescoping legs … for ease when sitting.
The shelf easily attaches and detaches to any port­able easel with round legs between 1/2″ and 7/8″ in diameter (01-20) or for rectangular legs of 1″ in diameter (01-40). The shelf weighs less than 1½ lbs. and adds stability to your portable easel or tripod. Shelf measures 16 inches wide and 12 inches deep.
Weight: 1½ pounds (core system)
Size: 16 inches wide and 12 inches deep.
Many artists add the Side Mount Accessory Box (01-12) to keep paint and brushes close at hand.
Palette tray
painters palette for sun eden plein air easel
Use this palette for oil or acrylic paints. Small compact size fits on the SunEden Artist's Shelf. Remove the sponge and use palette paper for oils. For acrylics saturate the sponge and place on tray under palette paper. Once lid is closed paints will stay in workable condition for days, and even weeks. 9"x12". Shipping Weight 1.25 lbs. (palette box)
Side box
This Side-Mount Accessory Box mounts level with the SunEden Artist's Shelf on either the right or left-hand side of the Artist's shelf. Order two (2) boxes; one for each side of the Artist's Shelf to double your workspace. As an extension to the Artist's Shelf, it will hold your water or solvent container and keep all of your accessories close at hand. The lid of the Accessory Box snaps closed at the end of your painting day to transport paints, pastels, brushes, etc., in backpack or bag. The support rods slide under the Artist's Shelf. Easily installed by the artist. May be combined with the Rear-Mount Sun-Eden Accessory Box (for easels only without a vertical center post.)
Shipping Weight: 0.6 lbs. (core system)
10"x 4.5"x 1-3/4"
Polypropylene Plastic
Construction
Easel: aluminum
Shelf: light­weight polycarbonate
How to set it up
The support arm snaps on and off your tripod with simple gripper clips. The metal support arms fold against the bottom of the shelf for small form-factor stowing in the SunEden StudioPack or Artist's Tote Bag.
Accessories
Work table
A useful work space to sit beside your easel or tripod to hold your art gear. The non-skid table surface expands from 12" to 24" long by 10 ¾" wide. Four aluminum legs telescope from 13" to 30" tall and fit into the table bottom when not in use. Folds to 13-½"x 10-¾"x 1-3/8" thick to fit into a backpack or tote bag.
Weighs 3 lbs.
Shipping weight 4 lbs.
Supports up to 18 lbs.
Shelf Height from Ground 13″ to 30″
Palette/Shelf Size 24" X 10 ¾"
Material Aluminum/Polycarbonate
Folded Height 13-½"x 10-¾"x 1-3/8"
Comparison
To compare it with other plein air easels, see my Guide to Plein Air Easels.
To compare it with other pochade boxes, see my Guide to Pochade Boxes.
Reviews of Sun Eden Easel
This is quite a lightweight system if you have to backpack a long way. The overall system weight is fairly low at 2.7 kg for the tripod, palette tray, palette box and one side tray. I had one of these a long time ago but no longer use it as there are now systems (albeit… Read more "Great for backpacking"
Barry Raybould
Give a review