(Get free painting tips and techniques sent straight to your inbox or on my social media.)
Use varying levels of focus and detail
When you are looking at a view, your eye sees only one part of the scene clearly in focus. You see the rest of the scene in a more generalized way using your peripheral vision. You should do the same in your paintings by keeping the objects in the main focal point in your painting in sharper focus, compared with objects in other parts of the painting.
Avoid making your painting look like a photograph in which the whole scene is in focus.
How to create varying levels of focus and details
Two techniques you can use are:
1. Brush size
Use two brushes that have a great contrast of size and shape so you cannot create too much detail outside the main focal point In your painting. Use the small brush only in the focal area.
2. Edges
Use soft edges in the less important parts of the painting, like in the right hand edge of the plant pot.
In this painting you can see the flowers and leaves in the foreground are much more defined than the plant pot and the table, which blend into the background. The areas of light hitting the pot also have some hard edges in their brushstrokes.
Tips
Do not show the same amount of detail throughout your painting. Keep detail to the focal point of the painting and use less detail away from the focal point.
Generalize objects and shapes away from your focus area by blending shapes of one tone together into larger shapes.
Use sharper edges in and around the focal point and focal areas, and softer edges in other areas of the painting
Be very careful about key perspective lines. Make them very accurate, even if they are in looser, less defined areas.
More examples of sharper objects in the focal point in your painting
Old master examples of of sharper objects in the focal point in your painting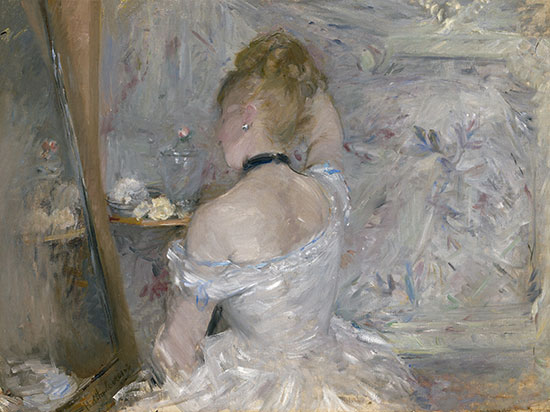 To learn more
To avoid the problem of your paintings looking too much like photographs, and learn how to use brushwork in your focal areas to add life, variety and interest to your work, sign up for the Virtual Art Academy® Apprentice Program.
Thank You
Thank you for taking the time to read this article. Please feel free to share it with friends. If you are interested in a structured approach for learning how to paint, take a look at my online painting classes.
Happy painting!
Barry John Raybould
Virtual Art Academy
What The Students Are Saying