Abbey's Easels Ref 03 Pochade Box is a hinged box with a sliding palette and space for three wet boards in the lid.
Company name: Abbey's Easels
Website: www.abbeyseasels.co.uk/
Pochade box name: Ref 03 Pochade Box
Type: Pochade Box
Price range: $100-$150
Weight: 3.86lb, 1.75 kg
Total System Weight:
Palette size: 10″ x 14″ , 25.4cm x 35.56cm
Construction: Wood
Description
External measurements are 385mm x 275mm x 115mm (15″ x 103⁄4″ x 41⁄2″ ).
The maximum size board that the lid can hold is 360mm x 255mm (14″ x 10″) of up to 4mm thickness. There are three pairs of wooden stops for anchoring smaller sized boards.
The chain that holds the lid when the box is open has some spare links, allowing the angle of the lid to be altered as desired.
In the base, under the palette, is a depth of 45mm (13⁄4″).
When the box is closed, there is sufficient space to allow for paint to be kept on the palette without it touching any painting in the lid storage area.
The varnished box has a carrying handle.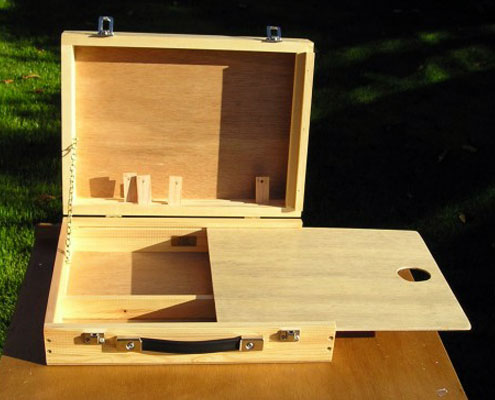 Construction
There are two versions available — one with the palette sliding out to the left, the other has it sliding out to the right.
Comparison
To compare with other pochade boxes, see my Guide to Pochade Boxes.
Reviews of Abbey's Easels
This is not an pochade box I have tried. The design is relatively heavy but it is one of the more affordable pochade boxes on the market. It does not have a tripod mount though which is a problem. I would not use by holding it in the palm of your hands as suggested by… Read more "Inexpensive option"
Barry Raybould
Give a review