This is the story of how Barry went from a raw beginner to a prize-winning professional artist in only five years and how he created a structured program to help you do the same.
Early Inspiration
I can remember deciding to become an artist after being captivated by Michelangelo's statue of David in Florence, and seeing his wonderful Pieta in St Peter's, Rome. I didn't know how much a work of art could move you emotionally. I was seventeen at the time.
Growing up with annual visits to the National Gallery of Art in London I had also fallen in love with the paintings of the English countryside by John Constable – a forerunner of the French Impressionists.
But like many artists, I ended up working in another career for many years. I was 40 by the time I decided I had to do it now. But how could I learn to become a good painter?
My Apprenticeships
I considered art school. But that would require leaving my home for four years. And it is very difficult to find a school that teaches real skills.
So I decided to apprentice myself to some top professional artists. It was an expensive approach (workshops with top artists can cost anything from $1000-$3000 depending on how far you have to travel). But if you want to become a good painter, I knew one thing. Whom you learn from is very important.
Michelangelo apprenticed with the renowned Florentine painter Andrea del Verrocchio. Claude Monet studied under Eugène Boudin and Johan Barthold Jongkind. All great masters.
So I sought out the best contemporary artists I could find. Each a specialist in their respective fields.
I spent several years learning the secrets of light from probably the world's greatest authority on the work of Rembrandt, David Leffel.
I learned how to create beautiful color harmonies from a master colorist of the Russian School, Ovanes Berberian. He was the top student of the renowned teacher Sergei Bongart who taught most of the best colorists in the US in the 60's and 70's.
And I learned the principles of abstract design from the top stained glass designer in the United States, Rodney Winfield. He designed the stained glass windows for the cathedral in the capital of the United States: Washington DC.
Wanting to broaden my education to encompass the techniques of Eastern as well as Western art, and learn the secrets of brushwork I studied with the master Chinese artist, Jove Wang for several years. And I also took many workshops with the top plein air painters in the US.
Each of these experiences took my work to another new level.
In addition to these studies I enrolled in many short courses on specific areas of painting. In notan design, expressionism, portrait painting, watercolor painting, acrylic painting, and pastel painting.
And I was an avid collector of old books on painting, amassing a library of over 100 art books, many of which are now out of print.
It had been a massive job to put all of these pieces together in my education and had taken me over twenty years.
The Plein Air Painting Renaissance Starts In California
In 1996 I became a part of a group of oil painters in the Central Coast of California and we became known as "The Informalists".
We had our first group exhibition of plein air paintings entitled "Informal Views" in 1996 in our Galerie Plein Aire in Carmel. This gallery over time became a hub for plein air painting on the Central Coast of California.
In 1996 I won my first prize for oil painting: 3rd place in the Carmel Art Festival. It was an important competition and attended by many top plein air oil, watercolor, and pastel painters.
In 1999 I was juried into the Carmel Art Association, the most prestigious association for oil. acrylic, and watercolor painters in the Central Coast area of California.
Just three years later in 2002 I got juried into the California Art Club as an artist member. An organization that represents all the top painters in California.
And I was invited to exhibit my work in one of the top galleries in Carmel. My work was now hanging on the same walls as the early 20th century masters of Californian Impressionism.
In 2005 I was invited to participate in the annual Telluride Plein Air Painting event and competition. I won First Prize, chosen by the artists themselves. And these artists included many of the top plein air oil, watercolor, and pastel painters in the United States.
By 2017 I had won 17 awards, many of them first prize, had over 20 one-man and group exhibitions, many in prestigious museums, and been invited to become a regular column writer for one of the most popular art magazines distributed all over the world: the International Artist Magazine.
The Birth Of A Knowledge Base Of Painting For Future Generations
My own art education had taken well over twenty years to put together, and had taken me all across the globe with multiple trips to China, studies in Florence, Italy, and a trip to Australia to seek out a master Russian painter living there.
But now I was beginning to find it very difficult to find any specific information I needed, when I needed it. As a working artist you need to keep referring back to the lessons you learned if you want to keep improving.
It was extremely time consuming to dig through scores of note-filled sketchbooks and hundreds of books trying to find that bit of information to solve a painting problem I was struggling with. And watching a two-to-three-hour-long demonstration video for a second time just wasted a lot of time.
So in the early 2000's I started to structure all of the knowledge I had gathered over a twenty year period into a form I could easily refer to.
I used a structured writing method called Information Mapping. I had learned this in my earlier career in the field of Instructional Design. It puts a logical structure into the knowledge so you can easily find any piece of information you want.
It took me three years to write my first version.
This structured knowledge base on how to paint became the germ of the vision for the Virtual Art Academy.
In 2003 I built a website and self-published a library of over 30 e-Books on how to paint. It covered every tip in painting from drawing and composition, to color and brushwork, to notan and concept design.
A Vision For A New Online Art School
In 2010 I created an online community in which students all over the world could learn together how to paint online using the materials I had created. By that time I also added another 20 eBooks to the library to add new information I had researched and learned between 2000 and 2010.
In 2013, I built some custom software to structure all these learning resources into a system that could take someone from a raw beginner all the way to a professional artist. With it they could get much the same quality education I got.
But in a far shorter time and at a much lower cost.
The result of all this work was the Virtual Art Academy® Apprentice Program.
It is a real course that trains you in a structured way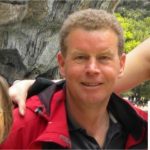 The questions you ask yourself are,"Will it be worth the cost?" and "Will it be truly useful?". After a couple of weeks working on/in Virtual Art Academy®, I can say that the amount of work it represents – by Barry – is incredible! The information presented alone is more than worth the price and, yes, it is a real course that trains you in a structured way. It's very well done!
Jon Main
France
St Victor La Coste